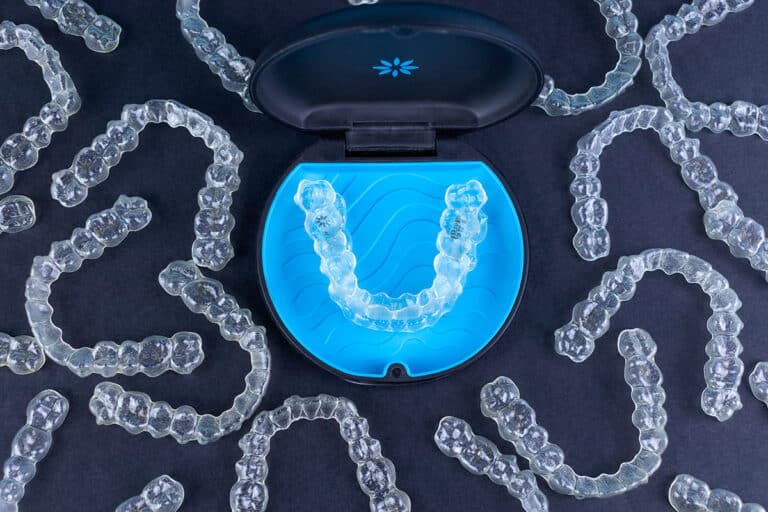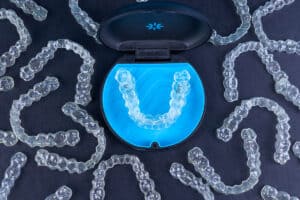 Clear braces have become the premier option for straightening misaligned teeth and bite concerns, and Invisalign clear aligners offer a better-looking and functioning smile without unsightly metal braces. Many people with overcrowding and other alignment problems believe their case is too severe to qualify for Invisalign. However, Invisalign can address a range of orthodontic issues for adults, teens and some children. Dr. Ashwini Bhave at Bay Area Dental Specialists offers Invisalign orthodontic treatment and can determine if this option is right for your needs.
What Is Invisalign?
Invisalign shifts your teeth into proper alignment using a series of aligners made with medical-grade plastic. These aligners fit snugly over your teeth and gradually straighten your smile. There's no need for brackets or wires that may cut oral tissues and limit your food options. Invisalign aligners are rotated on a set schedule (usually every two weeks) with regular visits with our dentist. This revolutionary technology offers a discreet way to improve your smile without a mouth full of metal and typically provides results faster than traditional braces.
Aligners are worn for 22 hours a day and removed for eating and drinking fluids other than water. They're easy to clean and give you full access to your teeth so you can floss, brush and rinse thoroughly before placing them back in your mouth.
Who Can Qualify For Invisalign?
Adults, teenagers and some children may qualify for Invisalign clear braces, depending on their level of responsibility and maturity. For effective treatment, young patients must be responsible enough to wear the aligners for at least 22 hours a day and switch to the next set on schedule. Young children and some teens may be more likely to remove their aligners for longer periods during the day or lose them.
The clear aligners can address a myriad of bite concerns, including:
Overcrowded teeth
Crooked teeth
Protruding teeth
Gapped teeth
Overbite
Crossbite
Open bite
Underbite
Candidates for Invisalign need to have good oral health before starting orthodontic treatment. Our dentist must address existing gum disease, tooth decay and other dental problems before starting the Invisalign process for a patient. Patients need to be prepared to care for the aligners and wear them as directed to reach the desired results. Forgetting to put aligners back in or leaving them out for too long will affect your results and may lengthen the timeline of your Invisalign treatment.
Types Of Invisalign
Several options are available if Invisalign is the right choice for your or your child's needs. Invisalign Express works for minor tooth issues and involves 10 or fewer aligners, taking about three to six months to complete. There is Invisalign Teen® for adolescents with permanent teeth and Invisalign Lite for slight modifications. Invisalign Full addresses severe bite issues, and Invisalign i7 targets one or two teeth.
Dr. Bhave may recommend adding SmartForce® attachments to your Invisalign treatment plan, depending on the severity of the misalignment. These white attachments blend in with your teeth and help guide them into the desired position.
If you're interested in Invisalign, contact Bay Area Dental Specialists in San Jose, California, today at (408) 809-7760 or request an appointment online.