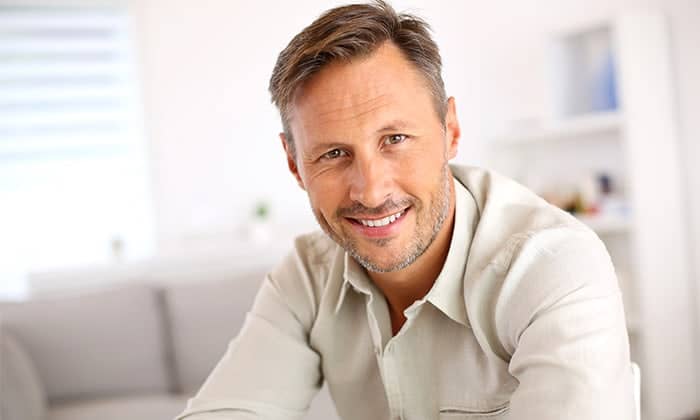 As a prosthodontist, Dr. Bhave is a specialist in creating high-quality, durable dentures that are well-fitting, comfortable and aesthetic. Unfortunately, no matter how well these dentures are made, they still have disadvantages such as slipping, causing painful chewing sores, providing only minimal chewing power and accelerating bone loss in the jaw as they are used.
Implant-Supported Dentures Increase Stability & Chewing Power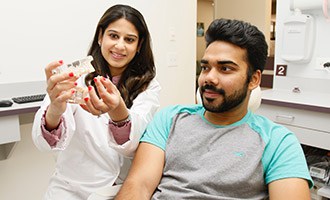 Modern technology has made it possible to eliminate these disadvantages by using dental implants to support and stabilize dentures. In addition to being a prosthodontist, Dr. Bhave is also a highly skilled implant dentist. She can place a series of dental implants that will support the dentures and hold them stably in place. Implant-supported dentures do not slip, have much greater chewing power and help prevent bone loss in the jaw.
Depending on your needs, the dentures can be fitted so they snap onto the implants while still being removable, or designed so they are fixed onto the implants. Each option has its own advantages, and Dr. Bhave can discuss each option after a comprehensive exam.
Why Choose Our Highly Skilled Implant Dentist?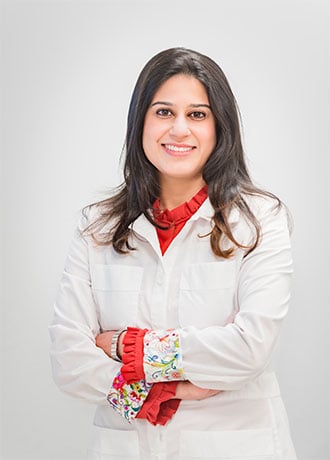 After completing three years of advanced training and residency at Rutgers University and earning her certificate as a prosthodontist, Dr. Bhave went on to complete a year-long full-time training fellowship in dental implant surgery at the Loma Linda University School of Dentistry in Southern California.
Dr. Bhave's expertise as a prosthodontist and skill as an implant surgeon gives her the ability to plan and execute every element of the treatment with the end result in mind. She ensures your implants are placed where they will properly support your new teeth, and ensures that your dentures are durable, enhance the beauty of your smile and achieve optimum bite alignment. Correct bite alignment will ensure your new teeth are comfortable and long lasting.
Implant-Supported Denture Options
Below are our implant-supported denture options.
Implant-Supported, Removable Snap-On Dentures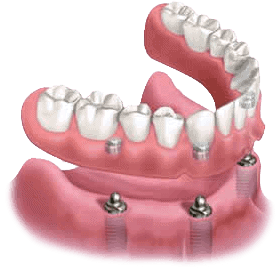 Dr. Bhave can place between four and six implants on your arch that will stably support a denture that can be snapped on and off. The denture can be removed at any time for cleaning or other care.
A denture retained this way will not slip, will need no messy adhesives to hold it place and will provide between 60 and 70 percent of the chewing power of natural teeth (over three times the chewing power of traditional dentures). You will be spared the discomfort and sores that come with wearing a loose denture, and will be able to eat many more of the foods you want.
Stabilizing Your Current Denture
Under certain circumstances, Dr. Bhave can place dental implants to stabilize your current denture. She retrofits your denture with attachments that allow the denture to snap onto the implants and be held in place. The denture can be removed whenever you wish.
When retained in place by implants, your denture will not move around in your mouth, will be more comfortable to wear and will have greater chewing power.
Mini Dental Implants
Mini dental implants are smaller in size than regular implants and can be used for supporting a snap-on denture. Mini implants are used when there is not enough bone to support a full-diameter implant, and the patient does not wish to have bone grafting procedures. After a consultation, Dr. Bhave will let you know if mini-dental implants are an option for you.
Implant-Supported Fixed-In New Teeth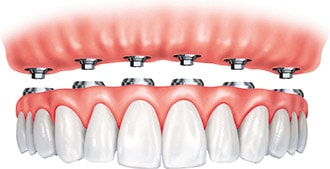 Dr. Bhave can place from six to eight implants in your arch to support a full-arch set of new teeth that are firmly fixed onto the implants. Implant-supported fixed-in dentures are the best option for replacing a full arch of teeth. They provide up to 80% of the chewing power of natural teeth, allowing you to eat most of the foods you want.
These dentures are fabricated with a strong titanium or ceramic reinforcement so they can handle strong bite forces. Dr. Bhave can make your new teeth out of porcelain so they look great and give you a beautiful smile. Your new denture can help restore the shape of your face and make you look and feel younger!
Because your dentures are firmly fixed-in, your upper denture does not have the false palate that inhibits your sense of taste or perception of heat and cold. Further, the pressure put on the implants by chewing helps preserve the bone volume in your jaw.
All-on-4® New Teeth in One Day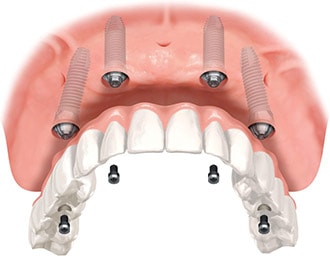 Dr. Bhave can provide eligible candidates with a full-arch set of fixed-in replacement teeth that are supported by only four implants per arch and do not require bone grafting for most patients.
In a breakthrough procedure known as "All-on-4", specially-designed, angled implants are placed in areas of the jaw where the bone is dense enough to support the implants. This procedure can even be done for patients with severe bone loss who were not eligible for implants in the past.
For most patients, Dr. Bhave can perform all necessary extractions, place all the implants and have you walk out with a functional set of replacement teeth, all in the same day!
Learn more about the All-on-4 New Teeth in One Day procedure.
Complimentary Dental Implant Consultation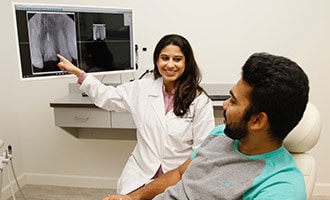 If you are already wearing dentures or need all of your teeth replaced, see Dr. Bhave for a Complimentary Dental Implant Consultation. Find out if implant-supported dentures are right for you, learn about your treatment options and get all of your questions answered.