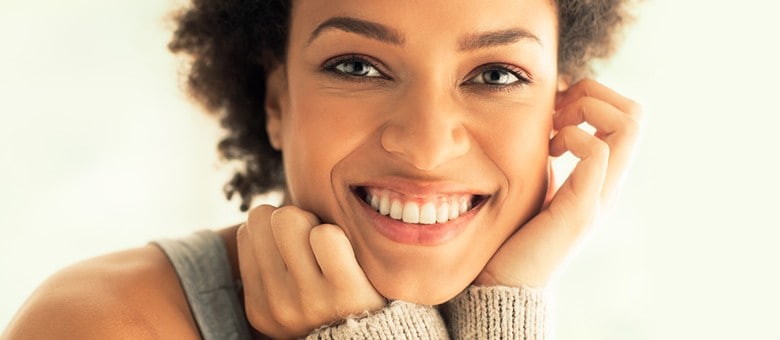 Porcelain veneers are thin porcelain facings that are bonded to the front of teeth to change their color, size and/or shape. They can also be used to make mildly crooked teeth appear straight or close a gap between the teeth. If you are dissatisfied with how your smile looks, veneers might be the ideal solution.
Dr. Bhave is a specialist who is highly trained and experienced in aesthetically enhancing smiles using veneers. She works with a local high-tech dental lab that fabricates the veneers according to her exact specifications. She pays attention to detail to give you the look you want, and ensures your veneers look natural in your smile and function comfortably in your mouth.
We offer a complimentary cosmetic consultation with Dr. Bhave so you can find out if veneers are the right procedure to help you achieve your smile goals.

Why Choose Dr. Bhave for Porcelain Veneers
After earning her degree as a general dentist, Dr. Bhave completed three additional years of training and residency to become a prosthodontist – a dental specialist in the aesthetic restoration of teeth and replacement of teeth. A major focus of prosthodontics is cosmetic dentistry, including the placement of veneers. As a specialist, she can create a bright new smile for even the most complex cases.
Dr. Bhave has also taught cosmetic procedures to dental students since becoming a prosthodontist. She currently serves as a clinical assistant professor of prosthodontics at the University of Pacific School of Dentistry in San Francisco.
If you have been looking into porcelain veneers to enhance the look of your smile, or if you just want to learn more about the available options, come see Dr. Bhave for a Complimentary Cosmetic Consultation. Your visit will include:
Conditions Porcelain Veneers Can Fix
Porcelain veneer can correct the following situations:
Teeth that have rough or pitted surfaces
Yellowed, stained or discolored teeth
Broken or chipped teeth
Mildly crooked teeth
Misshapen teeth
Gaps between teeth
Porcelain Veneers Procedure Details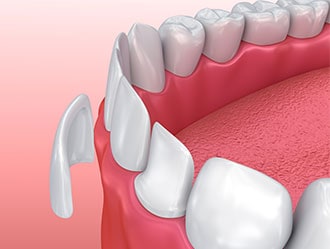 Initial Consultation and Treatment Plan
Dr. Bhave closely consults with you on the look you want. To help her fully understand this, she may have you bring in pictures that show examples of how you would like your teeth to look.
Dr. Bhave obtains enough information from you to completely understand what you are looking for. She then plans the treatment so it meets your desires.
Designing Veneer Dimensions & Color
Dr. Bhave takes an impression of your teeth to be used for planning the exact dimensions of your veneers. She uses a shade guide to determine their exact color and takes pictures of your smile for the lab to use in designing your new smile. She also takes an impression of your upper and lower teeth in biting position to ensure that the veneers will be made to support optimum bite function.
The lab then makes a wax model of how your veneers will look on your teeth. Dr. Bhave presents it to you for approval, making any adjustments necessary on the model until you are happy with the planned end result.
Tooth Preparation and High-Quality Temporary Veneers
Dr. Bhave prepares your teeth for the veneers by gently removing just enough tooth structure to create a strong bonding surface and to make up for the added thickness of the veneer. She takes a full impression of the prepared teeth for use by the lab in creating your final veneers.
She then places temporary veneers onto your teeth that have the exact shape and dimensions worked out on the wax model. She will show you your temporary veneers and get your approval for them as the final design, making any adjustments necessary until you are completely happy with how they look.
If any adjustments were made to the wax model design, Dr. Bhave takes a second impression of your teeth with the temporary veneers. The two impressions, the impression of your bite and your photographs will be used to create your permanent restorations.
Try-In & Final Veneer Placement
Dr. Bhave tests your veneers in your mouth to ensure they look exactly how you want. The cement comes in different shades, so it can be customized to ensure your final teeth are exactly how you want them to look. She uses a "try-in" temporary cement to place the veneers on your teeth so you can look at them as they will appear once bonded permanently.
Dr. Bhave makes any adjustments as needed and obtains your final approval, after which she permanently bonds the veneers to your teeth. Your new veneers will give you a beautiful and bright new smile!
Dental Bonding: Affordable Alternative to Veneers
Cosmetic bonding is a procedure in which a tooth-colored resin is applied to teeth to cover up small cosmetic or structural flaws. In certain circumstances, Dr. Bhave can use bonding material to close small gaps between teeth, repair chips and cover discolored parts of the enamel. She can also use bonding to make teeth longer or change their overall shape.
Cosmetic bonding is a quick and economical solution for minor changes, but is not as strong or as long-lasting as porcelain veneers. Dr. Bhave will let you know what she recommends for your specific situation.
Porcelain Veneers FAQs
Why do patients choose porcelain veneers?
The option is a quick and convenient way to address dental issues that might normally require more complex procedures. For example, veneers are a simpler and less costly alternative to dental crowns and orthodontic realignment.
Imperfections are masked by strong, thin porcelain shields that are applied to the front of your existing teeth. Once cemented into place, veneers hide tooth stains that did not respond to teeth whitening techniques, chips and other imperfections. Veneers can also be sized by your dentist to give your teeth a more pleasing shape or length, or to fill gaps between teeth. You can get a veneer for a single tooth or cover all upper front teeth for a high-wattage smile. Using computer modeling, skilled Bay Area dentist Dr. Ashwini Bhave can create a veneer that is an ideal match for the color and thickness of your existing teeth. You can expect your veneers to last at least 10 years, with a lifespan of 20 years or longer not uncommon.
Veneers are stronger than your teeth, but look just as natural. And because they are made of an advanced composite, they resist stains. Lovers of coffee, tea or red wine no longer need to worry about repeated teeth whitening procedures to maintain the brilliance of a smile.
When are porcelain veneers not appropriate?
Porcelain veneers are ideal for cloaking minor flaws and misalignment, as well as stained or misshapen teeth. This option is not a way to cover up serious oral health issues, however. Before porcelain veneers can be considered, experienced San Jose dentist Dr. Ashwini Bhave will need to treat any existing gum disease, fill cavities and cure any infections. Porcelain veneers may also not be appropriate for patients who tend to grind or clench their teeth, as this may damage the veneers over time. In some cases, Dr. Bhave will recommend a mouth guard to wear at night as a way to prevent chipping or friction that will wear away the surface.
Is the procedure painful?
Placing veneers involves removing a small amount of tooth surface enamel, but this is a simple procedure that is done with local anesthetic. Reshaping the existing tooth in preparation for a veneer is necessary to ensure your tooth will have the same thickness after placement, and to promote a strong bond between veneer and tooth. The necessity of this also means that veneers are a permanent solution, and cannot be reversed at a later date. After your veneers are cemented into place, you may experience some swelling of the gums, along with sensitivity to hot and cold foods or drinks, but these minor side effects will be temporary.
Are porcelain veneers the same as dental bonding?
They are similar, but there are important differences. With dental bonding, the structure of the tooth is not modified; composite material is bonded to the tooth in a quick process that can later be reversed, if desired. During a bonding procedure, a dentist carefully places a tooth-colored composite in the mouth to fill a cavity or treat an imperfection. Because the composite material can be sculpted by the dentist into any shape or size, the bonded material can add balance to misshapen teeth, cover gaps, make crookedness less noticeable, fill cracks and add volume to teeth with chips. Composite bonding can also be used to cover up discoloration. Bonding options are typically less expensive than porcelain veneers, but will not last as long.