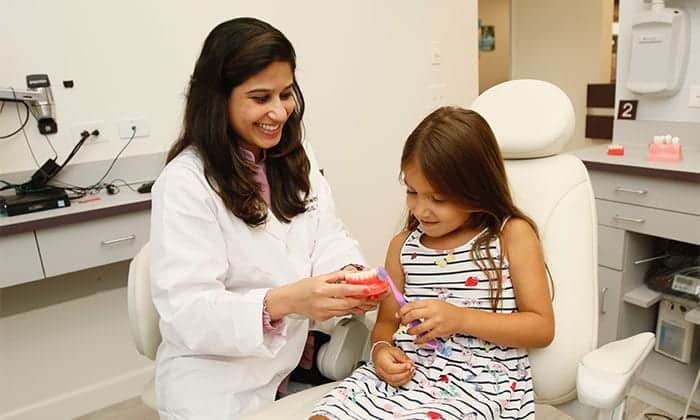 We provide gentle dental services for children. Our staff are friendly and caring, and we want to give your child a pleasant, comfortable experience at the dentist's office – beginning with their very first visit. We want to show your child that there is no reason to be afraid of the dentist.
We provide many different services for children, including sealants, cleanings and oral hygiene education. Our goal is to make their visits fun and stress-free. We recommend bringing your child in to see us around the age of three, so they will become familiar with the office.
Experienced & Friendly Dentists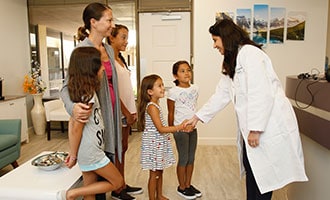 Our doctors and staff are friendly and gentle, and we love working with children. Dr. Bhave provides children's dentistry services. She will introduce your child to dentistry in a simple, caring way. The doctor will talk with your child so they can get to know each other. She will explain what will be happening in a way the child can understand. She will also talk about why it's important to take care of their teeth and gums.
Our doctors and hygienists have a very gentle touch and work with the goal of giving your child a pleasant, comfortable experience.
Your Child's First Visits
We recommend that you start bringing your child to our office before they are three years old. The first visit will be very simple. It will be more of a "getting to know each other" visit, in a fun and nonthreatening atmosphere. We want to convey to your child that going to the dentist isn't something to fear.
If your child is older, we will probably give them a quick oral exam and a simple cleaning. We will keep everything non-invasive and comfortable. Your child's comfort is key. They will know that visits to the dentist aren't a bad thing. And when they need other treatments, such as a filling, the visit will go smoothly.
Dental Services for Children
Before beginning any treatment, our hygienist will be sure that your child is comfortable and at ease. We offer gentle, conservative dental services for children. These services include:
Cleanings
Tooth-colored fillings
Sealants
Very gentle extractions
Baby root canals
Crowns
Easy-to-understand oral health education