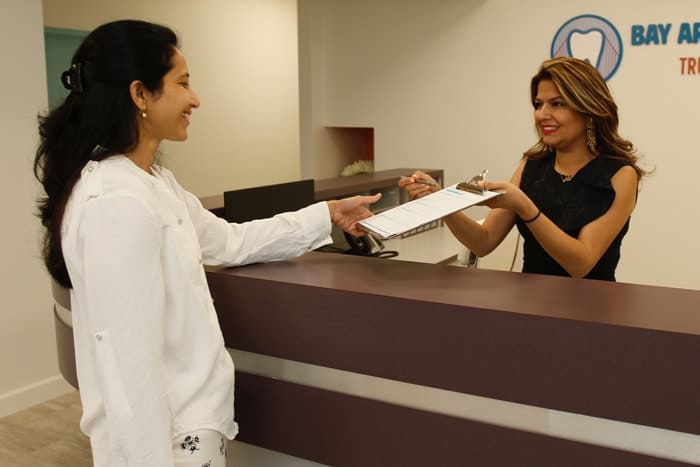 As a prosthodontist, Dr. Bhave is a specialist at restoring your smile. This includes conducting thorough exams and providing accurate treatment plans. When you come to our office, you'll find that our doctors and staff are very friendly and will make you feel at home. We will make sure your visit is pleasant and efficient.
During your exam, Dr. Bhave will consult with you about your personal goals and concerns, and will give you a thorough exam using state-of-the-art technology. From this information, she obtains an accurate picture of your current state and can precisely plan your treatment.
Dr. Bhave will formulate a treatment plan tailored to your needs, and will present you with the treatment options that will work best for you. We have a special offer for new patients that includes a comprehensive exam, X-rays, consultation with the doctor and treatment plan. Contact us today to get the details!
Your New Patient Exam
Here is what you can expect when you come to us for your new patient exam.
A Warm Greeting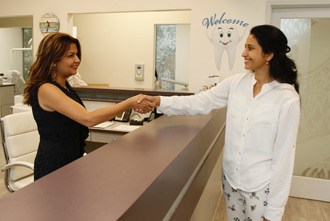 Our staff will give you a warm greeting and will welcome you to our office. They will help you complete any paperwork and will answer any of your questions.
Consultation About Your Goals and Concerns
Prior to your exam, Dr. Bhave will consult with you about your chief concern as well as your goals for your smile. She will listen closely to what you have to say and will make sure to address these points during your exam and treatment plan.
Digital X-rays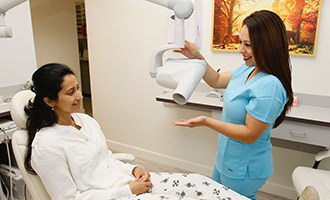 To get a clear picture of your oral health, we take a full series of digital X-rays. We may also take a digital panoramic X-ray that provides a comprehensive single view of your entire mouth.
3D CT Scan, as Needed
For patients who may need to have teeth replaced, we take a dental 3D CT scan. 3D scans provide crisp, 3D 360 degree views of the teeth, jawbone, soft tissues and surrounding structures. They show minute details not available in any form of x-ray, and are an invaluable tool for planning dental implants and other advanced treatments.
Comprehensive Oral Exam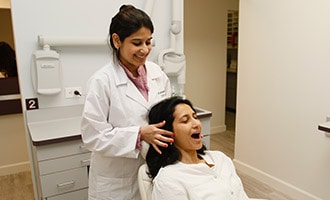 Dr. Bhave conducts a comprehensive exam which takes into account all aspects of your oral health. She begins by thoroughly examining your head, neck and jaw joint motion to check for any signs of jaw joint misalignment (TMJ disorders). She also checks the soft tissues of your mouth for any signs of oral cancer.
To get an accurate assessment of the state of your teeth and gums, she starts by visually inspecting your teeth – noting any cavities, earlier dental work and any teeth that are damaged or missing. She checks for gum disease by gently probing your gums, and will determine your bite alignment by seeing how your teeth come together.
Impressions for Treatment Planning
As needed, Dr. Bhave takes full impressions of your teeth to aid in treatment planning.
Detailed Treatment Plan
After reviewing the information in the x-rays, digital imaging and her inspection, Dr. Bhave will formulate a comprehensive treatment plan that is tailored to your personal needs. The treatment plan is very detailed, and includes the best options for your immediate concerns and, when needed, a comprehensive plan for your overall oral health.
She will clearly explain your treatment options and answer all your questions so you are well-informed and can make a decision about what treatment you are comfortable with.