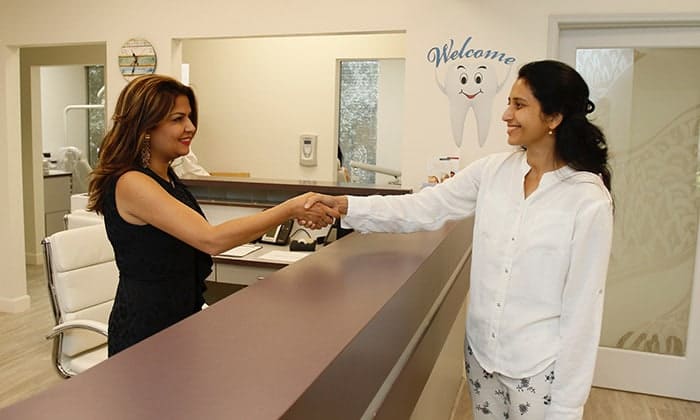 Dr. Bhave and our staff treat your comfort as a top priority from the time you enter our door until the time you leave at the end of your appointment. Our friendly care, comfort amenities, advanced technology and minimally invasive treatment all contribute to giving you a pleasant and relaxing experience.
Friendly and Helpful Care
Our staff are very friendly and will make you feel at home when you come to see us. They will help you with anything you need, and you can always come to them with a request or a question.
Our doctors are very caring and listen closely to what you have to say. They explain your treatment options in detail and answer all of your questions so you are well-informed, know what will happen and can feel at ease about your procedures.
Comfort Amenities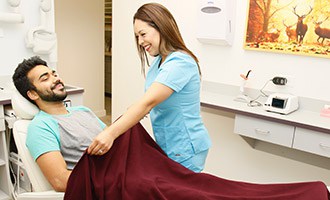 In our reception we have water and coffee for your refreshment. For added comfort in your dental chair, we provide pillows, blankets and headphones. Music is available for your listening enjoyment and you can watch TV on the monitor in your treatment room.
Gentle Injections and Aid for Heightened Anxiety
Dr. Bhave administers anesthetic in a way that creates little to no unpleasant sensation. If you need extra help for heightened anxiety, Dr. Bhave can provide oral conscious sedation to help you relax.
Advanced Technology for Minimally Invasive, Comfortable Treatment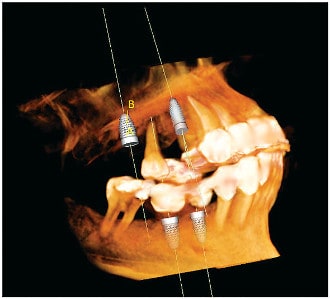 One of the most significant ways we make your treatment minimally invasive and more comfortable is by using cutting-edge technology in our diagnostics and procedures.
Using special software and 3D 360 degree images of your teeth and jaw created by our dental 3D CT scanner, Dr. Bhave plans the exact placement position of your dental implants without having to conduct exploratory surgery to discover the best location.
When placing multiple dental implants, Dr. Bhave uses a template that fits over the dental arch known as a surgical guide. The guide marks exactly where and at what angle each implant is to be placed. Use of the guide reduces the need for incisions and makes the procedure fast and minimally invasive.
Our ultrasonic scalers use high-speed soft vibrations to gently and thoroughly remove the accumulated bacterial plaque and calculus on your teeth. Ultrasonic scalers can be adjusted for comfort and are gentler on the teeth than conventional scaling instruments.
For gum disease treatment, we will often use a dental laser to remove damaged tissue and aid in killing harmful bacteria. Laser-treated tissues heal fast with little post-treatment discomfort. Dental lasers are a minimally invasive and more comfortable alternative to a scalpel.
Contact us to request an appointment