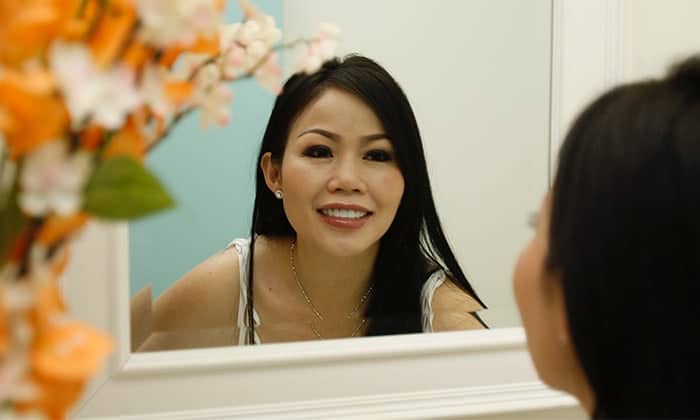 As a prosthodontist, Dr. Bhave is a specialist in the art and science of cosmetic dentistry. She has three years of additional training specifically in the aesthetic restoration of smiles. She can give you a beautiful new smile no matter your situation. She listens to your needs and customizes your treatment plan to meet your specific goals.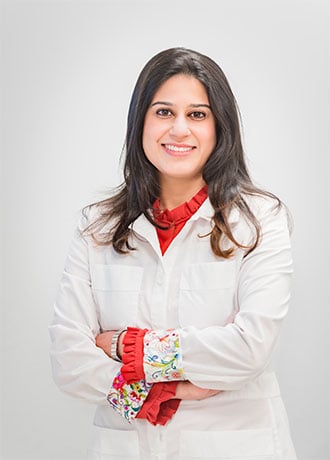 Dr. Bhave makes sure your new smile is beautiful, looks completely natural and has proper function and bite alignment so that it lasts. We offer a cosmetic consultation so you can find out from Dr. Bhave what she can do to give you a beautiful new smile.
Cosmetic Dental Specialist
After earning her degree as a general dentist, Dr. Bhave completed three years of advanced education and residency to become a prosthodontist – a dental specialist in the aesthetic and functional restoration of teeth. The major focus of her advanced training is in cosmetic dentistry procedures. Although there is no official dental specialty for cosmetics, a prosthodontist is as close as it gets, and it makes her an expert at creating natural-looking and beautiful smiles.
Dr. Bhave also teaches cosmetic dentistry as a clinical assistant professor of prosthodontics at the University of the Pacific Arthur A. Dugoni School of Dentistry in San Francisco. She stays on the cutting edge of cosmetic procedures by attending regular continuing education classes taught by leading experts in the field.
Cosmetic Dentistry Procedures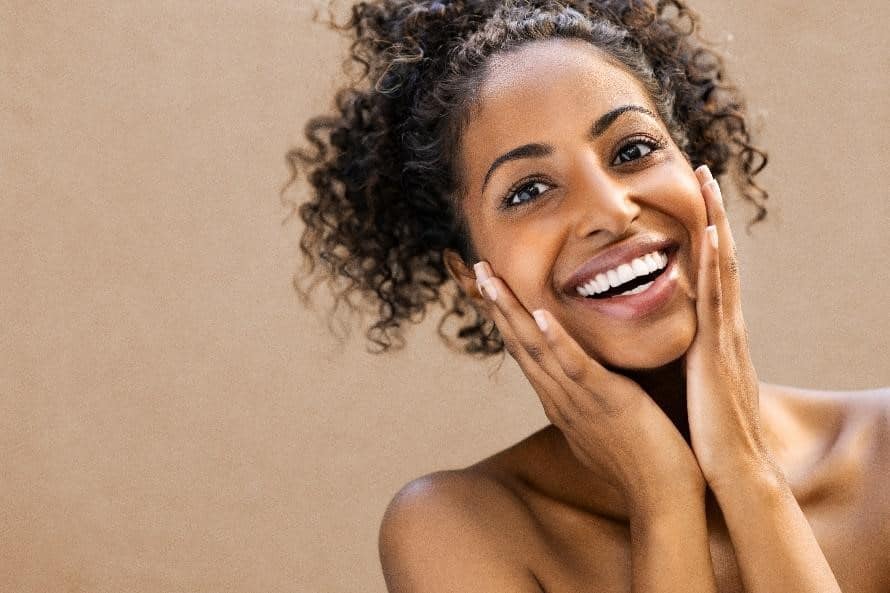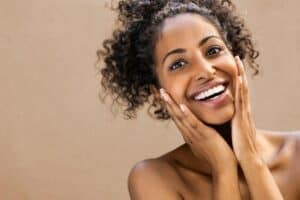 Cosmetic dentistry procedures available at Bay Area Dental Specialists include:
Porcelain Veneers
Veneers are durable covers that attach to the front of your natural, healthy teeth. You can choose veneers in a variety of sizes, shapes and colors to achieve your dream smile. With proper care, veneers can last in your mouth for 20 years before replacement is necessary.
Teeth Whitening
This one-hour procedure involves putting a special whitening gel on the teeth and then shining a light into the mouth to remove stains and brighten the smile. Results tend to last for about one year. Effective at-home whitening kits are also available at Bay Area Dental Specialists.
Invisalign® Clear Teeth Straightening
Invisalign clear aligners are a more convenient and attractive alternative to traditional orthodontics. These aligners (which are custom-built for your mouth and get swapped out about every two weeks) nudge your teeth into a straighter position. Because they are removable, they can be taken out when you brush and eat. Moreover, they are difficult for friends and coworkers to notice in your mouth since they are translucent.
Dental Bonding
Dental bonding is a less permanent solution for addressing flaws on the teeth like cracks, chips and discoloration. It can also be used to lengthen or widen a small tooth so that it better corresponds with the other teeth in the row. The procedure, which takes about 30 to 60 minutes per tooth, involves molding composite resin to the tooth. The resin hardens and is then smoothed so that it looks and feels natural in your mouth.
Tooth-Colored Composite Fillings
Whereas traditional fillings look metallic in your mouth, composite fillings match the shade of your teeth so that they are inconspicuous. Tooth-colored fillings are effective at strengthening infected teeth and preventing further decay.
Cosmetic Dental Consultation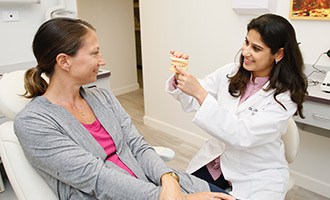 If you want to know how cosmetic dentistry can help give you the smile you've always wanted, come see Dr. Bhave for a Cosmetic Consultation. You can discuss your smile goals with her, learn about the available treatment options and get your questions answered. Your visit will include:
How Cosmetic Dentistry Works
Consultation and Customized Treatment Plan
Dr. Bhave closely consults with you and finds out exactly what you want for your new smile. She may have you bring in photos of what you would like your smile to look like. Once you both agree on what the final result should be, she tailor-makes your treatment plan to create the look you desire.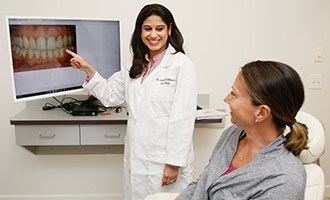 Dr. Bhave can use one or a combination of procedures to give you the smile you want. She will choose which procedures work best for your personal goals. This can include dental crowns, porcelain veneers, cosmetic bonding and teeth whitening. It can also include dental implants to replace broken-down or missing teeth, and cosmetic gum treatments to create an aesthetic gum line in your smile.
Cosmetic Dentistry Includes Function & Aesthetics
Dr. Bhave creates your new smile so it is both beautiful and long lasting. She chooses materials based on your specific needs so that any cosmetic work you do will last. She also ensures your new smile has proper function, ensuring that your new teeth are the right size in your mouth and that your bite is correctly aligned. Proper size and bite alignment prevents wear on your teeth, ensures you can chew comfortably and allows your jaw to function without discomfort.
Attention to Detail for Final Result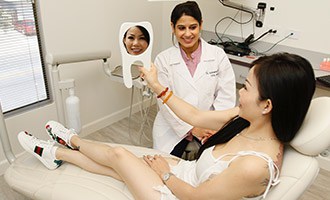 Before starting your cosmetic work, Dr. Bhave takes impressions of your teeth and creates a diagnostic model to use in designing your smile. She also pays attention to the proportions of your face so your new smile, when created, will fit with and enhance your facial features.
After working out the design, Dr. Bhave has our dental lab make a wax model of how your new smile will look. She will show you the wax model and consult with you on the design, making any adjustments necessary until you are fully satisfied with the plan.
High-Tech Lab for Quality Custom Restorations
Dr. Bhave works with a local high-tech dental lab that can fabricate restorations (crowns, veneers, etc.) to her exact specifications in terms of material and shade. If needed, she can have you see a lab technician who will personally shade-match your teeth, guaranteeing an optimum match and a natural-looking result.
Friendly, Personalized Care Throughout Process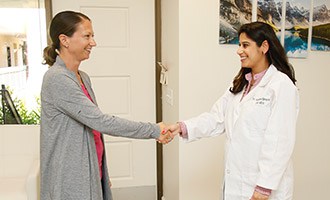 Dr. Bhave and our staff are very friendly and give personal care. You can come to the staff with any question or request and they will happily take care of it.
Dr. Bhave is very interested in what you have to say and listens attentively to your goals and concerns. She takes the time to thoroughly explain your treatment options so you are well-informed and can make a comfortable decision about your treatment.
Am I a Candidate for Cosmetic Dentistry?
Stained, darkened or discolored teeth
Fillings that do not match the color of your teeth
Gaps or spaces between teeth
Cracked, chipped or rough-surfaced teeth
Crooked teeth
Misshapen teeth
Missing teeth
Teeth covered by too much gum tissue ( a "gummy smile")
An uneven gum line around the teeth
Cosmetic Dentistry Reviews
"Highly recommend Bay Area Dental Specialists! They made my veneers experience go by smoothly. Dr. Bhave is amazing, she really cares about her patients and helps you get that Hollywood smile. It was worth the investment!" — L.M.
"Dr. Bhave is professional and super friendly at the same time. She has excellent knowledge about her craft, and her recommendations have helped me see results from my Invisalign treatment in less than 4 months." — A.J.
"I came into Dr. Bhave's office for a veneer consultation. Dr. Bhave was my third consultation: I said yes on our first date! Her office is brand new and everyone there was super nice and friendly. I now have a nice set of teeth and am not shy about showing them anymore." — F.L.
Cosmetic Dentistry FAQs
How Much Does Cosmetic Dentistry Cost?
The cost of cosmetic dentistry depends on the type of procedures used to improve the mouth and the number of teeth being treated. The team at Bay Area Dental Specialists prides itself on providing fair and transparent pricing, which we make available to you during the consultation phase. Some cosmetic procedures like fillings and Invisalign may be covered (at least in part) by your insurance plan. We also accept financing through CareCredit if you would like to make payments toward the full cost of the procedure.
How Long Does Cosmetic Dentistry Last?
The amount of time you can expect the aesthetic improvements in your mouth to last depends on the procedure. Teeth whitening lasts about one year, bonding lasts up to 10 years, fillings last a decade or more, porcelain veneers last 20 years and the results from Invisalign can last a lifetime. However, with all these treatments, the amount of care you provide to your teeth can extend (or shorten) the amount of time they last. Brush, floss and avoid food and beverages known to stain the teeth to maximize their lifespan.
What Are the Benefits of Cosmetic Dentistry?
Not everyone is blessed with straight, sparkling white teeth. If your teeth are less than perfect due to genetics or insufficient oral hygiene, you do not have to tolerate having an unsatisfactory smile forever. Cosmetic dentistry procedures are a reliable way to help you achieve the kind of teeth you have always wanted.
Do I Need to Pull Out Teeth for Cosmetic Dentistry Procedures?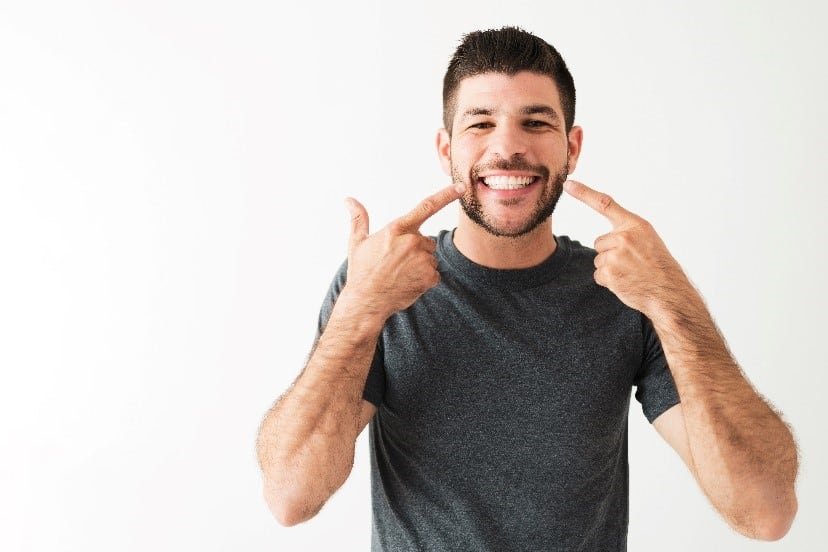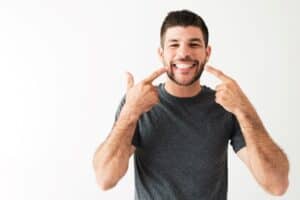 Luckily, most cosmetic dentistry procedures do not involve extracting teeth. When making aesthetic improvements, Dr. Bhave prioritizes keeping healthy teeth in the mouth. Instead of replacing teeth, her goal is to make teeth seem whiter, straighter or longer. She can achieve all these changes without having to replace functional, healthy teeth.
When Does Dr. Bhave Recommend Dental Bonding over More Involved Procedures?
Dental bonding is an appealing option for patients who want to limit discomfort, cost and time in the dental chair to make cosmetic improvements to their teeth. In many situations, using composite resin can achieve a patient's specific goals. As always, the trade-off is the duration: dental bonding tends to last about five years, whereas more complex procedures can make more permanent changes to the teeth.
Is It Safe to Bleach My Teeth?
Professional teeth whitening is a safe and effective cosmetic procedure. Although your teeth and gums may experience mild sensitivity following the treatment, most patients believe the minor discomfort is worthwhile for getting their teeth several shades whiter.
Is There a Downside to Choosing Tooth-Colored Composite Fillings?
Currently, composite fillings have become the default option in many dentist offices over the traditional silver amalgam fillings. Although tooth-colored fillings do not last quite as long as metallic fillings, they have advanced to a point where their longevity is comparable. They also allow Dr. Bhave to preserve more of your natural tooth. Since composite fillings also blend in easily amongst your teeth rather than leaving glimmering metal in your mouth, it is not a surprise that patients prefer them.
If I Get Veneers, Do I Need to Get a Full Set?
No, the number of veneers Dr. Bhave adds to your mouth is entirely up to you. While many patients choose to have an entire row of veneers to achieve a different shade and shape to the teeth, some patients just get one (or a few) so that they may cover up a crooked, misshapen or discolored tooth rather than give a complete makeover to the mouth.
How Is Invisalign Better than Conventional Orthodontics?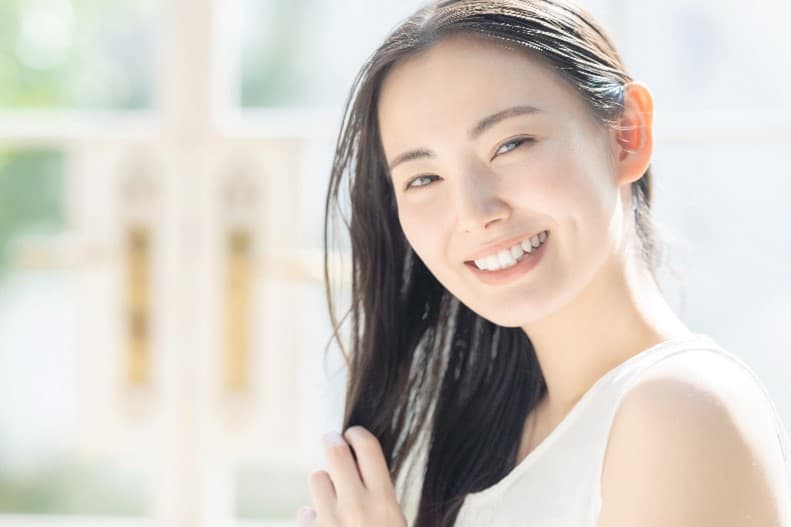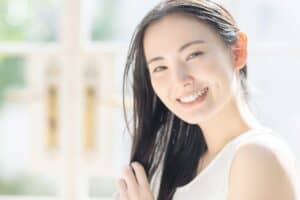 Invisalign clear aligners do the same work as braces but feature far less of the hassle. Not only does Invisalign's transparency make it easy to hide the aligners in your mouth, but these aligners are also removable when you eat and brush your teeth to keep everything more sanitary. Because you receive multiple aligners at once, you can swap them out on a set schedule and have fewer total appointments at Bay Area Dental Specialists than you would each time your braces needed tightening.
Why Should I Choose Dr. Bhave for Cosmetic Dentistry?
As a prosthodontist, Dr. Bhave specializes in the placement of dental additions like veneers, crowns and bridges. Following years of extensive training, she developed a keen eye for enhancing the beauty of the teeth without sacrificing any of the functionality. Her ability to provide a complete mouth makeover is why her patients leave her such positive reviews.