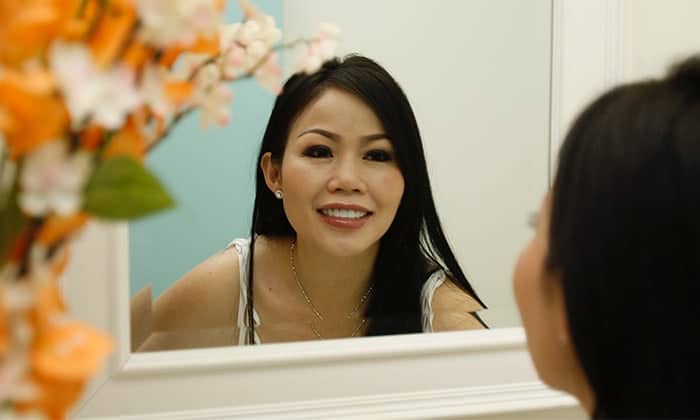 As a prosthodontist, Dr. Bhave is a specialist in the art and science of cosmetic dentistry. She has three years of additional training specifically in the aesthetic restoration of smiles. She can give you a beautiful new smile no matter your situation. She listens to your needs and customizes your treatment plan to meet your specific goals.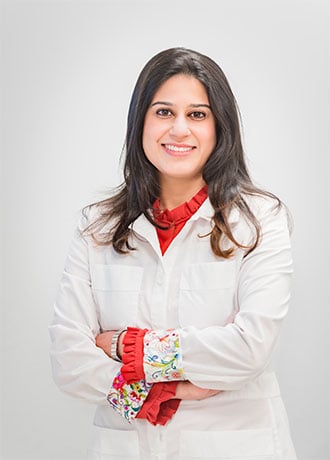 Dr. Bhave makes sure your new smile is beautiful, looks completely natural and has proper function and bite alignment so that it lasts. We offer a complimentary cosmetic consultation so you can find out from Dr. Bhave what she can do to give you a beautiful new smile.
Cosmetic Dental Specialist
After earning her degree as a general dentist, Dr. Bhave completed three years of advanced education and residency to become a prosthodontist – a dental specialist in the aesthetic and functional restoration of teeth. The major focus of her advanced training is in cosmetic dentistry procedures. Although there is no official dental specialty for cosmetics, a prosthodontist is as close as it gets, and it makes her an expert at creating natural-looking and beautiful smiles.
Dr. Bhave also teaches cosmetic dentistry as a clinical assistant professor of prosthodontics at the University of the Pacific Arthur A. Dugoni School of Dentistry in San Francisco. She stays on the cutting edge of cosmetic procedures by attending regular continuing education classes taught by leading experts in the field.
Complimentary Cosmetic Dental Consultation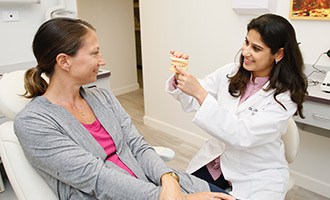 If you want to know how cosmetic dentistry can help give you the smile you've always wanted, come see Dr. Bhave for a Complimentary Cosmetic Consultation. You can discuss your smile goals with her, learn about the available treatment options and get your questions answered. Your visit will include:
How Cosmetic Dentistry Works
Consultation and Customized Treatment Plan
Dr. Bhave closely consults with you and finds out exactly what you want for your new smile. She may have you bring in photos of what you would like your smile to look like. Once you both agree on what the final result should be, she tailor-makes your treatment plan to create the look you desire.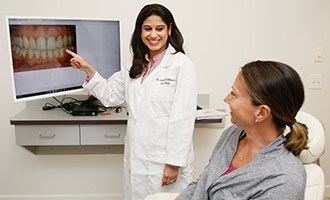 Dr. Bhave can use one or a combination of procedures to give you the smile you want. She will choose which procedures work best for your personal goals. This can include dental crowns, porcelain veneers, cosmetic bonding and teeth whitening. It can also include dental implants to replace broken-down or missing teeth, and cosmetic gum treatments to create an aesthetic gum line in your smile.
Cosmetic Dentistry Includes Function & Aesthetics
Dr. Bhave creates your new smile so it is both beautiful and long lasting. She chooses materials based on your specific needs so that any cosmetic work you do will last. She also ensures your new smile has proper function, ensuring that your new teeth are the right size in your mouth and that your bite is correctly aligned. Proper size and bite alignment prevents wear on your teeth, ensures you can chew comfortably and allows your jaw to function without discomfort.
Attention to Detail for Final Result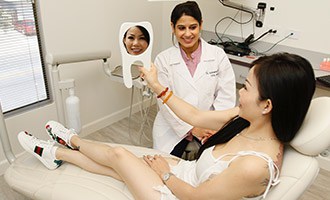 Before starting your cosmetic work, Dr. Bhave takes impressions of your teeth and creates a diagnostic model to use in designing your smile. She also pays attention to the proportions of your face so your new smile, when created, will fit with and enhance your facial features.
After working out the design, Dr. Bhave has our dental lab make a wax model of how your new smile will look. She will show you the wax model and consult with you on the design, making any adjustments necessary until you are fully satisfied with the plan.
High-Tech Lab for Quality Custom Restorations
Dr. Bhave works with a local high-tech dental lab that can fabricate restorations (crowns, veneers, etc.) to her exact specifications in terms of material and shade. If needed, she can have you see a lab technician who will personally shade-match your teeth, guaranteeing an optimum match and a natural-looking result.
Friendly, Personalized Care Throughout Process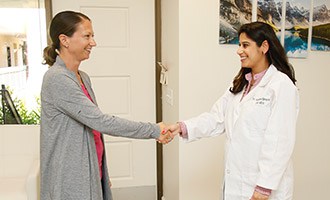 Dr. Bhave and our staff are very friendly and give personal care. You can come to the staff with any question or request and they will happily take care of it.
Dr. Bhave is very interested in what you have to say and listens attentively to your goals and concerns. She takes the time to thoroughly explain your treatment options so you are well-informed and can make a comfortable decision about your treatment.
Am I a Candidate for Cosmetic Dentistry?
Stained, darkened or discolored teeth
Fillings that do not match the color of your teeth
Gaps or spaces between teeth
Cracked, chipped or rough-surfaced teeth
Crooked teeth
Misshapen teeth
Missing teeth
Teeth covered by too much gum tissue ( a "gummy smile")
An uneven gum line around the teeth