Ashwini Bhave, B.D.S., D.D.S., M.D.S.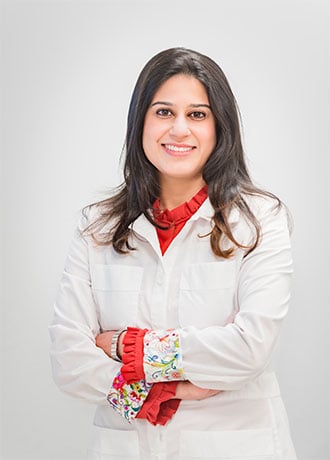 Dr. Ashwini Bhave has been in practice as a prosthodontist (a dental specialist in aesthetically restoring and replacing teeth) since 2012. Dentistry, and especially prosthodontics, combines art and science in a meaningful way that can help people transform their smiles and their lives. This is why Dr. Bhave chose to become a prosthodontist.
"I became a prosthodontist because it gives me the ability to create beautiful and functional smiles for patients no matter how complex their situation," she says. "I like that I can help people achieve excellent oral health and also help them have greater confidence."
Dr. Bhave is also extensively trained in dental implant placement so she can take care of almost any patient's tooth replacement needs in the comfort of our office. She has equipped our office with the latest in technology to ensure the highest quality and most comfortable treatment.
In addition to treating patients, Dr. Bhave is an experienced educator of other dentists. She has taught prosthodontics since 2013 and currently works as Clinical Assistant Professor of Prosthodontics at the University of the Pacific Arthur A. Dugoni School of Dentistry in San Francisco.
Friendly and Caring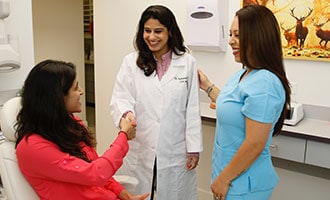 Dr. Bhave is known by our patients for her friendly and caring personality and how comfortable she makes them feel. They also appreciate how she listens closely to their goals and concerns and takes the time to thoroughly explain all their treatment options.
Education
Dr. Bhave received her Bachelor of Dental Surgery (B.D.S.) degree in 2007 from the Maharashtra University of Health Sciences' Government Dental College (GDC) in Mumbai, India. She moved to the United States to pursue her advanced education, and first completed three years of specialty training and residency at the Rutgers University School of Dentistry in Newark, New Jersey – graduating with a Masters Degree and certification as a prosthodontist in 2012.
Dr. Bhave went on to complete a year-long advanced training fellowship in dental implant surgery at Loma Linda University School of Dentistry in Southern California. She then earned her Doctor of Dental Surgery degree (D.D.S) from the University of Detroit Mercy School of Dentistry. In August 2016, she moved to San Jose to provide prosthodontics and implant dentistry to the Bay Area.
Dr. Bhave regularly attends continuing education classes to stay on top of the latest advances in technology and procedures.
Educator in Prosthodontics
Dr. Bhave has been teaching prosthodontics to dental students since 2013. Before moving to the Bay Area, she served on the faculty of the dental schools at the Rutgers School of Dental Medicine in New Jersey and the University of Detroit Mercy School of Dentistry. She is currently a part-time clinical assistant professor of prosthodontics at the University of the Pacific, Arthur A. Dugoni School of Dentistry in San Francisco.
Professional Association Memberships
Dr. Bhave is an active member of the following professional associations:
American College of Prosthodontists
American Academy of Implant Dentistry
Academy of Osseointegration

Outside the Office
Outside the office, Dr. Bhave enjoys spending time with family and friends. She also finds time to indulge her passion for travel, the outdoors and music.
Dr. Jenny Hong, DDS, MSC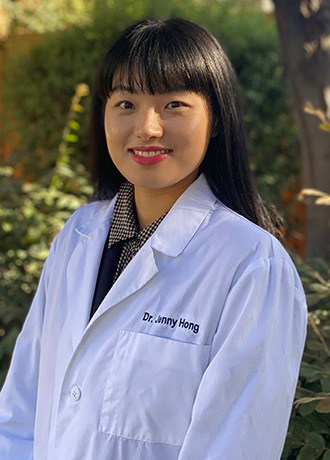 Dr. Jenny Hong, DDS, MSC, is a general dentist with a strong interest in implant dentistry and aesthetic dentistry. She believes dentistry is where her passion for art and science come together. Before becoming a general dentist, Dr. Hong was an active researcher, investigating the pathogenesis of genetically-determined diseases. Dr. Hong received her Doctor of Dental Surgery degree with Honors from University of Toronto. She then completed a residency program at Temple University, Philadelphia where she gained experience in implant placement, surgical extractions, periodontal surgeries, and complex restorative procedures.
Dr. Hong believes in the importance of providing individualized care to every patient, and that stems from listening to the needs of her patients. Dr. Hong has helped many patients in restoring their smile by providing solutions to replace their missing teeth, offering them a better aesthetic and functional capabilities. Dr. Hong has also received training in aesthetic dentistry, and has experience in placing veneers, partial coverage crowns, and full coverage crowns to assist in smile makeover cases.
Dr. Hong is an active member of Spear Education and CDOCS.com where she continues to learn about functional occlusion and using digital workflow to design restorations and plan for implant surgeries. She is also a certified Invisalign provider since 2018. Outside of dentistry, Dr. Hong is an avid cellist and a home cook. Her favorite cello pieces are written by Bach. She is also an avid LEGO collector, and she is currently planning out her next dive to see the coral reefs.