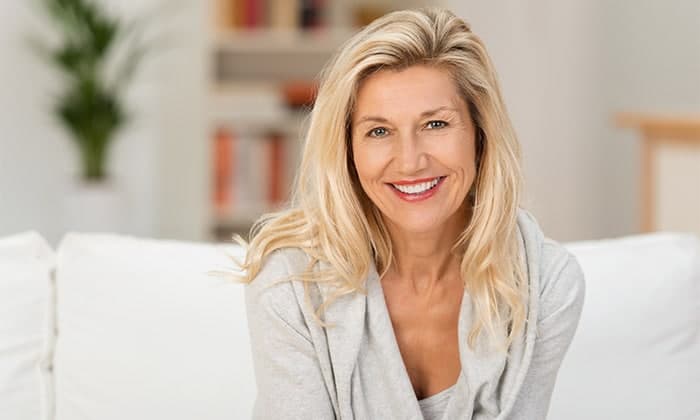 Are you tired of wearing dentures that slip, irritate your gums and make it difficult to chew? Are your teeth so broken-down that they all need to be replaced?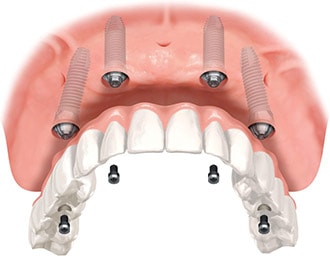 Dr. Bhave can give you a full-arch set of functional and aesthetic new teeth that are firmly fixed onto implants and provide excellent chewing power. Using the revolutionary "all‑on‑4" procedure, she can provide most patients with any needed extractions, dental implants and fixed-in new teeth—all in a single visit!
Your new teeth won't slip or irritate your gums, will look and feel totally natural and will allow you to comfortably eat the foods you want. Because of the special techniques and implants used in the all‑on‑4 procedure, bone grafting is not needed for most patients, even those with severe bone loss
Meet Experienced Implant Dentist & Teeth Replacement Specialist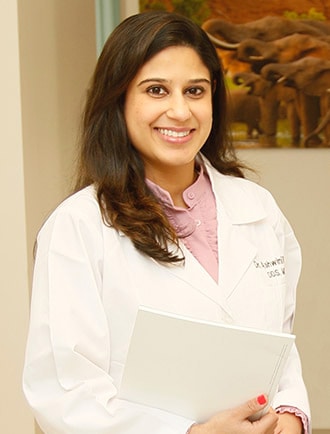 After receiving certification as a prosthodontist (a dental specialist in the aesthetic restoration and replacement of teeth), Dr. Bhave completed a year-long full-time training fellowship in dental implant surgery. This included training and experience specifically in the all‑on‑4 procedure. She has provided implants and fixed-in new teeth for many patients and given them back their full smiles.
Her expertise as a prosthodontist and skill as an implant surgeon gives her the ability to plan and execute every part of the procedure in the comfort of our office. As a recognized specialist in creating functional and aesthetic replacement teeth, she ensures that your new teeth fit comfortably in your mouth, have the correct bite alignment and look natural.
Complimentary All-on-4® Consultation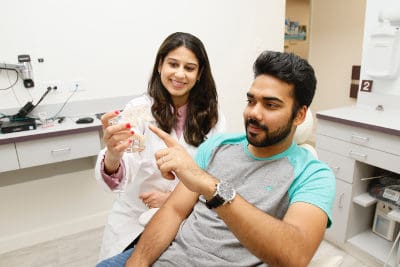 If you are wearing dentures or need all of your teeth replaced, come see Dr. Bhave for a Complimentary Dental Implant Consultation. Find out more about the all‑on‑4 procedure and other options for implant-supported full-arch new teeth. Your visit will include:
How All‑on‑4 Implants Work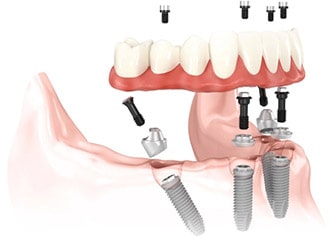 In the all‑on‑4 procedure, four specially designed implants are placed in strategic positions on the dental arch where the bone is of the greatest volume and density and can provide strong support. This includes placing the rear implants at a forward angle to access the dense bone in the front of the jaw.
This eliminates the need for bone grafting for most patients – even for people with severe bone loss who were not eligible for implants in the past. This system works for almost every patient and has made getting permanently fixed-in teeth more affordable and more efficient.
The Entire Procedure in One Day
After initial diagnosis and preparation appointments, Dr. Bhave performs the entire procedure in the same day. This includes any needed extractions, placing all your implants and providing you with an immediate and functional set of replacement teeth to wear while your implants heal.
Once healing is completed, your final new teeth will be fixed in. Your new teeth will feel and function very much like real teeth and will have a beautiful, natural look.
Advantages of Permanently Fixed-in Teeth with All‑on‑4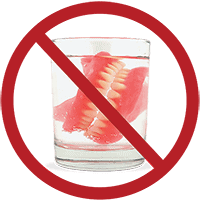 Eating the foods you want – Since your new teeth will have close to the chewing power of natural teeth, you will be able to comfortably eat the foods you want.
No more sores or painful chewing – Since your new teeth will be securely fixed onto implants, they will not slip or move around. Chewing will be comfortable and you will not have sores on your gums that result from irritation caused by loose dentures.
No false palate with your upper teeth – Your upper teeth will not have the false palate that inhibits your sense of taste and your perception of heat and cold. Eating and drinking will be safer and more enjoyable.
Your jawbone will be preserved – The jawbone needs the pressure created by chewing to maintain its volume and density. The jaw gradually loses bone when teeth are missing, and the type of pressure placed on the jaw by dentures speeds up the bone loss. Implant-supported fixed-in teeth provide the type of pressure needed to preserve the bone level of the jaw.
All‑on‑4 Procedure Details
The following is how we give you implant-supported, fixed-in new teeth with All‑on‑4.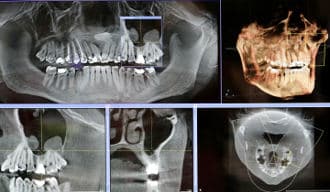 State-of-the-Art 3D Dental Scans
To plan your treatment, Dr. Bhave takes full digital x-rays and a dental 3D CT scan of your teeth, jaw and surrounding structures. The scanned images provide crisp 3D 360-degree views of your entire mouth that can be magnified to provide fine detail. Using these images, she will be able to see where the bone volume is sufficient to place your implants stably.
Dr. Bhave then loads the 3D images into special treatment planning software and maps out the exact position and angle of insertion for each implant.
Surgical Guide to Guarantee Accurate Implant Placement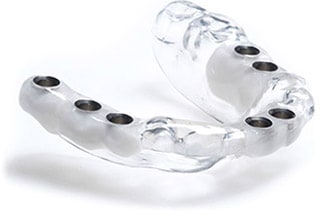 To guarantee efficient and accurate placement of your implants, Dr. Bhave manufactures and uses a surgical guide during your procedure. A surgical guide is a template that fits over the dental arch and marks exactly where and at what angle to place each implant, exactly as plotted in in the treatment planning software.
Creating New Teeth for the Implants
To design your new teeth, Dr. Bhave takes impressions of your dental arches and precisely measures how your jaws come together when biting. From the impression and measurements, she creates a wax design of your new teeth to be used as a model in making your restorations.
Dr. Bhave takes great care to design your new teeth so they are aesthetic and have the proper size and shape to function naturally in your smile. She also makes sure your two arches come together in a proper bite alignment, which is vital for long-term comfort.
Dr. Bhave can fabricate your new teeth out of a variety of materials. Although she may occasionally need to make them out of a durable and aesthetic acrylic resin, most often she fabricates them out of high-quality porcelain. She works closely with you to determine which materials will work best for you in terms of beauty and strength.
Implants & Functional New Teeth on the Same Day
On the day of your surgery, Dr. Bhave extracts any remaining teeth and places all of your implants. In the same visit, she will provide you with a well-fitting, functional and aesthetic set of temporary teeth to wear while your implants heal.
Ensuring Comfort During Treatment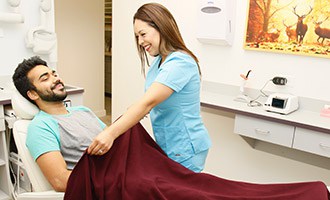 We make sure you are comfortable at all times during your treatment. Dr. Bhave thoroughly explains your procedure and answers all your questions so you know what to expect and can be at ease.
For your added comfort in the dental chair, we provide blankets, pillows and headphones for listening to music or the TV in your treatment room. If you need extra help for anxiety, Dr. Bhave can provide a sedative pill to help you feel calm.
Follow-up Visits and Final Teeth Results
Dr. Bhave sees you in regular follow-up visits to monitor the healing of your implants. She also takes any impressions needed for the creation of your final new teeth.
Once your implants have fully healed, Dr. Bhave attaches your final set of new teeth. Your new teeth will look very lifelike and aesthetic. They will have a proper bite alignment, which ensures they will feel comfortable in your mouth and function optimally.
With fixed-in new teeth, you will have chewing power close to that of natural teeth, allowing you to comfortably eat the foods you enjoy. You will be able to speak and smile with renewed confidence!
Schedule a Complimentary Dental Consultation
If you are tired of wearing uncomfortable loose dentures, or have broken-down teeth and need them all replaced, come see Dr. Bhave for a Complimentary Dental Implant Consultation. Find out more about our options for implant-supported full-arch replacement teeth and get all of your questions answered.