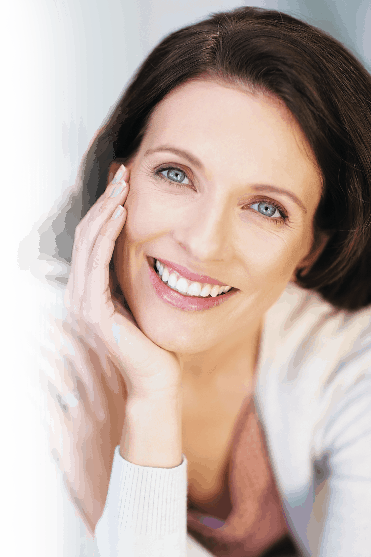 While it is never fun to have missing teeth, dental implants have made it possible to restore your smile and gain nearly the full chewing power provided by your natural teeth. Whether you need to replace one or more missing teeth, or even a full arch of teeth, Dr. Bhave highly recommends dental implants.
Aside from their being the most aesthetic and natural-looking tooth replacement option, dental implants promote better oral health in comparison to other tooth replacement options—and a healthier smile means better health overall.
The problems with missing teeth and their solution
When teeth are missing, the jaw bone beneath the missing teeth starts to shrink. It follows the use-it-or-lose-it concept—when a tooth is missing, you are no longer chewing in that spot. When the stimulation of chewing is lacking, that portion of the jaw bone is "not needed." The resulting bone loss causes the face to appear shrunken and makes a person look older.
Another difficulty with having one or more missing teeth is that the adjacent teeth begin to shift position. This can make tooth replacement more complicated as time goes on.
When a dental implant replaces a missing tooth, we can eliminate these issues. The implant post fuses with the jaw bone and now functions as a natural tooth. You can now bite and chew with almost the same power as you did with your natural teeth, and the jaw bone now gets the needed stimulation to maintain its proper volume.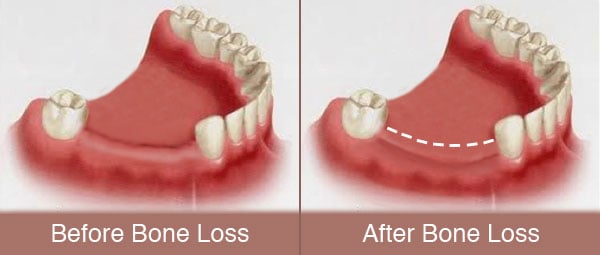 What about traditional dentures and dental bridges?
Traditional dental bridges and dentures that are not supported by dental implants present several challenges.
Dental bridges are held in place by teeth that lie adjacent to the missing teeth. These supporting teeth have to be filed down to allow a bridge to be placed. These teeth are also being depended upon to hold the bridge in place. This causes undue strain on the teeth and can weaken them.
Traditional dentures also have drawbacks. They often require messy adhesives to hold them in place and they must be removed at night and for cleaning. In terms of aesthetics, they can move around in the mouth when you talk, chew, or laugh.
Conventional dentures do not provide anywhere near the chewing power that you need to stimulate the jaw bone. In fact, the wearing of dentures itself puts the wrong kind of pressure on the jaw and this actually accelerates the bone loss and facial collapse.
As denture wearers can attest, as time goes by dentures no longer fit snugly in the mouth. Not only are ill-fitting dentures uncomfortable and embarrassing, but they make chewing even more difficult. This can stop you from being able to eat the foods you love, which adversely affects health.
With dental implants, none of these factors exist. In fact, most of our patients say that they cannot even feel the difference between a dental implant and their natural teeth.
Our Dental Implant Services
Dr. Bhave provides several dental implant options to replacing broken-down or missing teeth:
Implants to replace individual teeth
Multiple implants to support a dental bridge replacing several teeth in a row
Multiple implants to support a removable full-arch denture
Multiple implants supporting a fixed-in, full-arch set of new teeth
Implant-supported, fixed-in full-arch new teeth with All-on-4® New Teeth in One Day
Highly Skilled Dental Implant Specialist
As a prosthodontist, Dr. Bhave is a highly trained specialist in the restoration and replacement of teeth. She is also highly trained and experienced in placing dental implants. Her combination of advanced skills allows her to perform all aspects of dental implant treatment in the comfort of our office.
Complimentary Dental Implant Consultation
Dr. Bhave offers a free consultation. Find out how you can benefit from implants.
Comprehensive oral exam
Necessary X-rays
3D CT scan, if needed
Meet with the doctor
Find out if you are a candidate for dental implants
Get your questions answered
Learn about treatment options
Usual value: $700
To make an appointment, call 408‑831‑0030 or use the form below