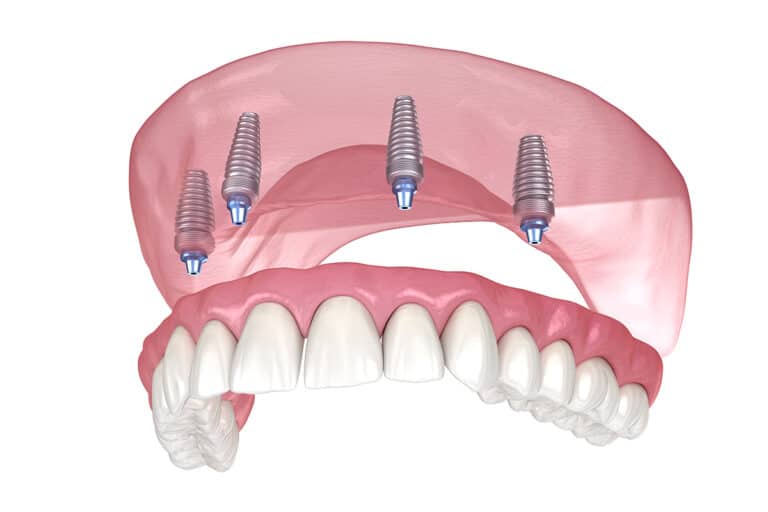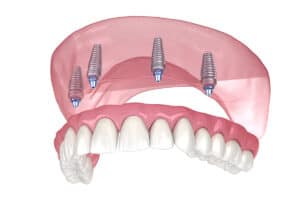 People missing an entire arch of teeth have significant dental concerns. Whether these teeth were lost naturally or extracted to improve oral health, dental implants for full arch replacement, or All-on-4, offer new teeth in a single day. Dr. Ashwini Bhave is a talented prosthodontist specializing in dental restorations with extensive experience and training as an implant surgeon with All-on-4.
Dentures may give you a complete set of teeth, but these removable restorations come with many drawbacks. They may slip, limit your food choices and irritate your gums. Full arch replacement with the All-on-4 procedure provides naturally-looking teeth with none of the limitations associated with dentures.
Full Arch Replacement with Dental Implants Strengthens the Jawbone
The lack of stimulation from missing teeth and gum disease can cause the jawbone to recede and resorb. One missing tooth causes up to 25 percent bone resorption in a year. Many patients looking for full arch replacement have moderate to severe bone loss. Removable dentures and bridges don't protect or strengthen the jawbone, but dental implants fuse with the jawbone. All-on-4 uses four strategically placed dental implants to support a full arch of artificial teeth. These implanted posts prevent further deterioration and protect the jawbone. The pressure put on the jaw by All-on-4 dental implants preserves the jawbone, whereas dentures may speed up bone resorption.
Enjoy a Variety of Foods without Limitations
People who have dentures or have been living with multiple missing teeth must avoid certain foods that are difficult to chew. Tough foods such as steak may be off limits, but dental implants anchor the full arch permanently in the jaw and mouth. All-on-4 full arch replacement allows patients to enjoy any type of food with a chewing power similar to natural teeth. Chewing won't be painful or cause the replacement teeth to slip or develop mouth sores, as often happens with dentures.
Care for All-on-4 Full Arch Replacement with Normal Dental Hygiene Habits
All-on-4 replaces an entire arch of teeth in a single day and provides a natural look and feel. Another benefit of these implant-supported dentures is they are cared for like natural teeth. Brush and floss after meals or at least twice a day. Remove debris from the tongue and inside the cheeks by gently brushing these areas and rinse with antibacterial mouthwash. Schedule regular dental exams and cleanings at Bay Area Dental Specialists to ensure debris is removed from implants and prevent bacteria from growing around the implants.
If you're interested in full arch replacement with dental implants in a single visit, contact Dr. Bhave in San Jose, California, today. Learn more about All-on-4 and schedule an appointment by calling (408) 809-7760 or filling out our online form.